A new school year is in session. It's time for school pictures. Picture this scenario…
Typical school pictures:
Bland, boring backdrop that doesn't match the outfit
Little Billy's snack crumbs still on his face
A strand of Sally's hair sticking wildly out of place
Frank's red face from PE class which was right BEFORE pictures
That annoying cheesy fake smile from Lisa
Now picture this scenario…
"Not the Usual School Pictures" from Christy B Photography:
You choose from one of 20 custom backdrops that best matches the outfit
Fully retouched images to remove food crumbs, blemishes or whatever else may be found on a child's face
Mom or dad present to perfect the hair/outfit prior to pictures
No PE class or recess to cause red faces
Patience and expertise to get that beautiful natural smile you know so well
So we ask you, why would you settle for those terrible pictures from the school? This is the ONE time of the year Christy B Photography offers print packages at reduced prices with NO session fee. This is your chance to get quality professional portraits of your school children at a very affordable price.  We also offer a variety of specialty products that can only be purchased during this time.  Give us a try and see the amazing difference in your child's school photos. 
*PLEASE NOTE: Christy B Photography does NOT provide yearbook photos to the schools.  Your child MUST still be photographed at school to be included in the yearbook.  (You just don't have to buy any prints from them if you don't want to!)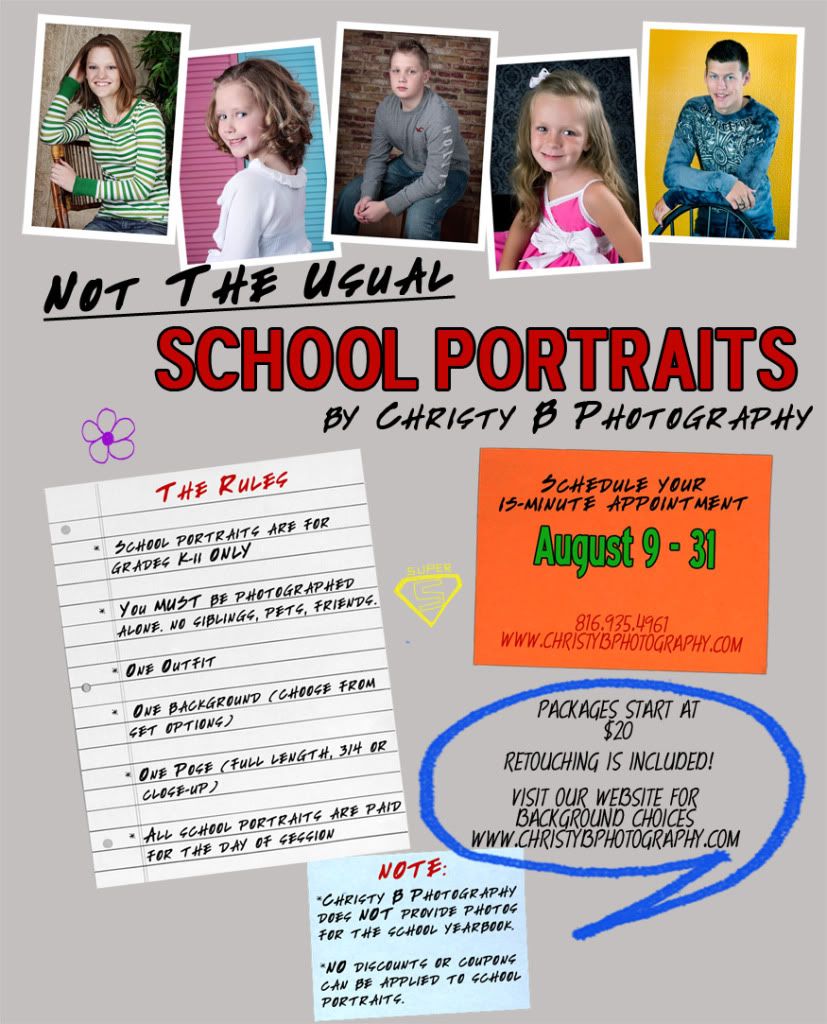 Click the play button to view our 2010 set designs. 
Contact us to schedule your child's "Not the Usual" school portraits or for a complete pricing list. Offer expires August 31, 2010.